If you're looking for a reliable and efficient way to fight fires,
consider buying a
Vertical Multistage Fire Pump
Set. These pumps are compact in structure, firm to connect and easy to mount. They also provide high-pressure water for firefighting purposes. Listed below are a few of their best features. Read on to find out which vertical multistage pump set is right for your needs. It's a good idea to check the nameplate specifications of your pump before you buy it.
The vertical Multistage Fire Pump's multiple discharge ports are ideal for high-rise buildings. Its three discharge ports are suited for different floors and zones. The first outlet delivers water at a pressure of 100 psi, the second provides a pressure of 175 psi and the third is capable of delivering up to 300 psi. These pumps can also be installed in multi-story buildings.
The CLDF series vertical multistage fire pump is a centrifugal pump with two or more impellers. Sometimes, they are mounted on separate shafts. But most of them are mounted on the same shaft. Fluid enters the pump casing and passes through an eye on the impeller. The impeller rotates through mechanical means, creating centrifugal force, which forces the fluid to the outer tip of the impeller vane. The fluid then enters the stage diffuser.
An overcurrent protection device is an important component of any Vertical Multistage Fire Pump. In order to protect against power surges and other types of short-circuits, it must be equipped with an appropriate overcurrent protection device. This device is also designed to protect against ground faults and short-circuits. Moreover, the device must be able to carry the entire motor current of the fire pump. This means that the unit must have a sufficient amount of power to prevent a fire from spreading to the surrounding area.
A good vertical multistage Fire Pump is a great way to keep water pressure in an emergency. Not only is this type of pump highly effective in supplying water to the area, but it also reduces energy and pollution. And it's flexible enough to work in a variety of situations, like bridging a water supply gap in case of an emergency. 
A high-rise building should have a reliable backup pump. The 2016 edition of the 20 Standard includes a provision to ensure the pump's reliability. Those who plan to purchase a Vertical Multistage Fire Pump should know what the new regulations require. If your building is a high-rise, it's imperative that you select a pump designed to meet these requirements. This rule also applies to buildings designed for special hazard fire protection.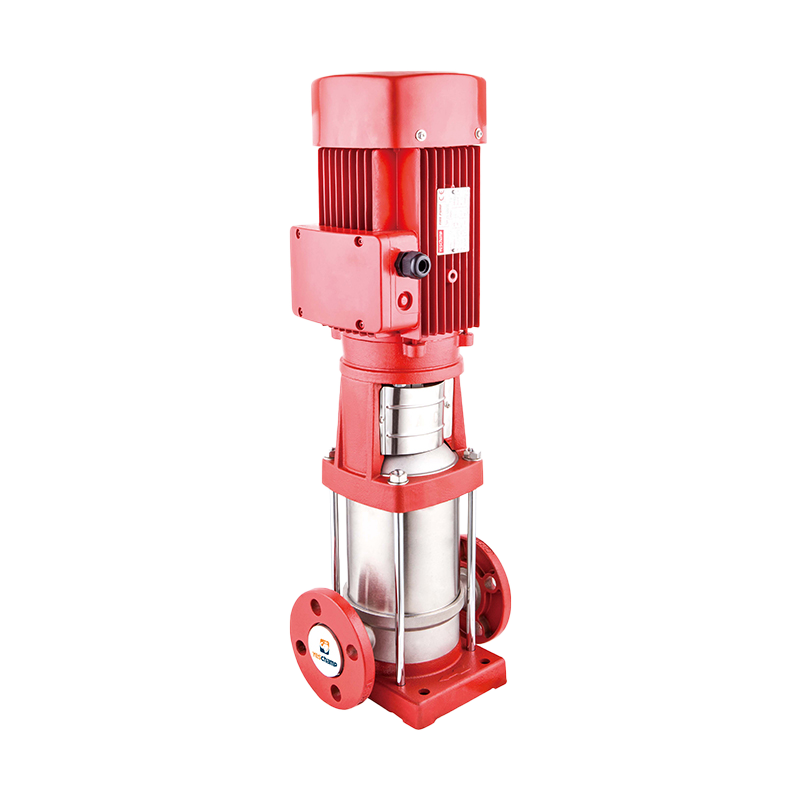 DN Suction size: 25-100 mm (1"-4")
DN Discharge size: 25-100 mm (1"-4")
Flow Capacity Range: 0.6-110m3/h
Head/Pressure Range: 6-300m
Power Range: 0.37-45kw
The CLDF vertical multistage pump (pump body, shaft,impeller, etc.) are made of stainless steel, which is resistant to wear and has a long service life. It is used as a stabilized pump in the fire pump system to maintain the pressure of the fire line. The pump is suitable for high temperature water supply, hot water circulation, boiler water supply, fire pressurization, high-rise building water supply and water treatment, and water purification.
CDL/ CDLF is a kind of vertical non-self priming multistage centrifugal pump, which is driven by a standard electric motor.The inlet and outlet are located at the pump bottom at the same level.
CDL/ CDLF takes the advantages of outstanding design of hydraulic model, high efficiency and sound energy conservation. The inside impeller, casing and other main components are all stainless steel.
CDL/ CDLF is a kind of vertical non-self priming multistage centrifugal pump, which is driven by a standard electric motor. The motor output shaft directly connects with the pump shaft through a coupling. The pressure-resistant cylinder and flow passage components are fixed between pump head and inlet & outlet section with stay bolts.
The electric pump is coupled with YE3 high efficient motor with protection IP55 class F, anti-corrosive coating pump case, quality NSK bearings, and wear resistance mechanical seal.
Water treatment: Ultrafiltration system, reverse osmosis system, distillation system, separator, swimming pool.Irrigation: Farmland irrigation, spray irrigation, dripping irrigation.